A car bug out bag is just like any other regular bug out bag or prepper bag. The only difference is that this one should be kept in your car or vehicle and have a few additional items, such as supplies that will help you deal with car troubles.
A car emergency can leave you stranded in a deserted place or ditch where no other motorists can see or help you, and this kit is your answer to avoiding such a situation.
[ninja_forms id=20]
Another reason to prepare a vehicle bug out bag (BOB) is to have a spare survival kit at the ready if the one you have in your home becomes out of your reach when disaster hits. For example, if your home catches on fire and you are unable to grab your BOB because the fire got to it first, you can still feel hope knowing that a spare kit is available in your car.
You may also need such a kit if the disaster happens while you are at work. If going home to grab your urban survival kit is no longer an option, there is no need to worry because there is another BOB in the trunk of your car and it contains all the essential items necessary for your survival in the next couple of days.
Before we continue our discussion on car bug out bags, I am furnishing a chart of Amazon rated kits you might consider for your review.  This will easily save you time and money getting started in your car prepping plans.
 Top Auto Bug Out Bag Survival Kits
Family Road Survival Kit
My Rating: ★★★★
Has a contingency for nearly anything. Truly a fantastic all around, must have Bug Out Bag Auto Kit.
Highlights
Enough Supplies for to Feed 4 People for One Day. (One person for 4 days.)
Contains Food, Light, Water, Communications, Tools, First Aid, Shelter, and Warmth Items.
All Contained in a Durable Red Duffle Bag, with Wheels for easy transport.
Recommended by Survival Preppers USA, and Prepper stores everywhere.
---
Urban Road Warrior Kit
My Rating: ★★★
A great bag that is well rounded in items, assuring that there won't be many situations that can't be solved with this kit.
Highlights
Contains Jumper Cables, Tow Rope, A First Aid Kit, and a Tire repair kit.
Includes a Roadside Reflective Triangle Distress Banner.
Hold Various Practical Use Items, Such as; Gloves, Duct Tape, Wet Naps, a Swish Army Knife, and a whistle.
Great reviews, praising how practical the items are for everyday carry and use.
---
152pc Vehicle Survival Kit
My Rating: ★★★★
Auto Club Hero's provides an emergency kit of the highest quality with auto repair items and survival gear combined.
Highlights
4 Food and 4 Water Packets With a 5 Year Shelf Life
Prepper Gear, Tools and Survival Guide Included
Good Auto Kit to Use for a Roadside Emergency
This premium emergency kit sold exclusively on Amazon with FREE shipping.
---
Car Bug Out Bag (4 Person)
My Rating: ★★★
Earthquake Store is a global leader in the distribution of emergency preparedness gear with an emphasis on earthquake survival.
Highlights
High Quality, Dependable and Sturdy Bug Out Bag to Hold Supplies
Strong Emphasis on Emergency Preparedness Survival Items
5 Year Shelf Life for Food & Water Packets
Earthquake Store survival gear has been featured in well known publications such as The New York Times
---
A car survival bag can be a part of a bigger picture, especially if your original plan is to make your vehicle your bug out place if an emergency should occur. If, for example, your city gets flooded and you are forced to temporarily relocate to the next town or to a more elevated area, you can always take shelter in your car. If that happens, the survival kit you have stocked in your car will be right there to provide you with the necessities you need to survive.
How to Build the Perfect Bug Out Bag for Your Vehicle
As previously mentioned, this type of survival bag contains the basic essentials such as water, food, extra pieces of clothing, a first aid kit, hygiene products, a flashlight, a blanket or sleeping bag, knife, tools, something to defend yourself with, a lighter or a matchbox, and a few other essentials.
The advantage of having a car bug out bag is that it can be much bigger and heavier than your usual bug out bag. Chances are they you will not have to carry it around with you, so you can add more items to make your car survival kit perfect.
Below, I provide you the Best Bug Out Bag Vehicle Guide.  It offers you expert suggested survival items and emergency gear you need to consider especially if you plan to supplement your pre-made Car Bug Out Bag.
Bug Out Vehicle Checklist

After reviewing the list above, There are some more detailed ideas I hope can further assist you in being more effective in your emergency preparation goals.
Emergency Preparedness Items Discussed
Survival Clothing 
Hats – Put a baseball cap and a winter cap in your bag. You will need the former for sunny days and the latter for traveling through cold weather. It is possible that you will leave home expecting fine weather ahead of you but discover the opposite.
It would be good to know that you have the right hat stashed in your trunk.
Raincoat – If it rains and you need to change a flat tire, you will be glad to have a raincoat or a waterproof poncho in your bug out bag. If you don't have one, even a large garbage bag can do the trick.
Car Emergency Items
Jumper Cables – Sometimes no matter how regularly you keep your vehicle maintained, your battery can give up on you out of the blue and leave you stranded on the side of the road or in a parking lot.
Fortunately, that can easily be remedied with the help of another vehicle's battery. All you need are some jumper cables to connect your batteries together.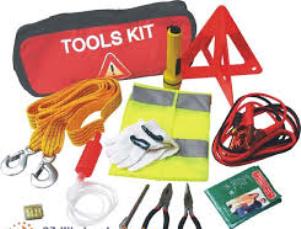 Car Tools – These will include a jack, tire inflator, adjustable wrench, pliers, screwdrivers, and even some spare car parts and supplies, like fuses, oil, antifreeze, water, and wipers.
These are supplies and tools that any responsible driver should always have in their car. Unfortunately, many do not and so they end up asking other motorists for help.
But what will you do if are stranded on an isolated road? Self-sufficiency is key! So, so make sure you have all of these tools available.
Fire Extinguisher – You must have heard stories about vehicles catching on fire while on and off road. Even the thought is frightening.
The real situation, however, is much scarier.  Hence, having a fire extinguisher is a crucial necessity, both for you and the other car owners who failed to acquire a fire extinguisher for themselves.
Early Warning Device and Flares – An immobile vehicle on the middle of a highway poses a big hazard to all.
After all, the other vehicles are driving at full speed and may not have the time to react and avoid a collision.
This is why if you experience any car trouble, your first course of action should be to move the car to the side of the road and place early warning signs several meters behind the vehicle to inform other motorists of your presence.
In case car trouble occurs at night, lighting up some flares will make you visible to the other drivers and thus protect all of you.
Survival Location Tools
A Road Map or GPS – there are many people who are very bad with directions and many others who become easily disoriented in an unfamiliar place.
Having a map, or better yet a GPS device, will help you find your way to the nearest gas station, hospital, police station, or simply any place where you can get help.
Basically, a car bug out bag is a combination of your regular survival kit and you vehicle's emergency kit.
When disaster hits and you have no choice but to take refuge in your vehicle for a while, you will be very glad to have all of these supplies.
You can relax knowing that they will effectively meet your immediate needs.