Disasters and emergencies can be traumatic for any person, but they are especially so for those who have families to take care of.
If you are single, you can easily and quickly run away from the source of the disaster without ever looking back.
In the event, you have kids or elders in the family, you need to tend to their needs first. They depend and rely on you, as does their wellbeing.
Building a complete bug out bag (BOB) for a single adult person is relatively easy compared to packing such a bag for the entire family. Although with the latter, you will need to eventually have to make several kits, one for each member of the family, each with its own special contents.
Because you will most likely be "Buging Out" with the entire family or older relatives, due to their physical abilities, it may make more sense to purchase a 2 to 4 person pre-made 72 hour bug out bag to carry the majority of the provisions all will essential need in the event a disaster crisis occurs.
I do want to highly emphasize however the eventuality in having individual emergency bags, whether it is a pre-made,  do it yourself or hybrid (half premade/diy) version for each member of your party.
Lets face it, the probability one of your loved ones may be separated from your group is high.
Thus it makes sense that they have the most necessary and easy to use provisions (water, food, firestarter, etc…) packed away in their backpacks. Most importantly, always give and tell your group , if they should get lost, where to meet up and rendezvous just in case.
DOWNLOAD THE COMPLETE FAMILY BUG OUT BAG GUIDE FOR FREE
Get Bonus Resources Including…
• Alternative Medicine Options from a Medical Expert
• Bug Out Medicine Chest Suggestions and Tips 
[ninja_forms_modal_form id=29 image_link='https://www.aboblist.com/wp-content/uploads/2015/03/download-bug-out-guide-guide-PDF.png']
Family Ready Made Bug Out Bag Review
For those limited on time below, you will find a convenient and easy to use Family Bug Out Bag review I devised to illustrate a few choice bags you may want to purchase from Amazon, a trusted source and most popular online retailer.  The emergency bags below are divided into 2 and 4 person ready made bug out bags.
Top Family Bug Out Bags: 2 Person
Tactical Stealth 2 Person Bug-out Bag
My Rating: ★★★★
A great choice for one who desires a better quality family bug out bag .
Highlights
Backpack is Both Durable and Heavy Duty
Selection of Survival Gear Based on Above Average Quality and Standards
Contents Made in the USA.
Food and water packets tested and approved by the US Coast Guard.
---
Wise Deluxe 2 Person Survival Kit
My Rating: ★★★★
Bag provides food and survival items to last not just 72 hours, but 5 full days.
Highlights
Freeze Dried Food Packets  with a Shelf Life of 25 Years are of the Highest in Quality and Taste
Rolling Duffel Bag Allows for Easier Mobility Especially for Those with Health Issues
Better Quality Swiss Multi-Tool Included
The Wise Company is a major provider of emergency food and items to the emergency preparedness community.
---
Deluxe 2-Person Survival Kit
My Rating: ★★★★
This exclusive BOB is both highly ranked and extremely popular on Amazon .
Highlights
Padded Shoulder and Waist Straps Added For Safety and Comfort
Extra Space Found Throughout for Adding Extra Personal or Survival Items
All Items are Securely Fastened to Prevent Breakage
Bug out bag is made and assembled in the USA .
---
 Top Family Bug Out Bags: 4 Person
4 Person 72 Hr. Survival Kit
My Rating: ★★★
This bug out bag by SurvivalKitsonline is designed and equiped to be used in a grab and go situation
Highlights
Contents Contained in a Sturdy Duffle Bag
5 Years Shelf Life for Food and Water Packets
Selected Items to Work in a Pinch
This emergency kit have been devised through extensive research in emergency preparedness emphasizing safety.
---
4 Person 72 Hr. Premium Disaster Preparedness Kit
My Rating: ★★★
This Premium BOB by First My Family is their top seller in the Emergency Kit market.
Highlights
Provided With Two Packs to Distribute Weight of Emergency Gear to Prevent Injury
245 Pieces Provide Support in the Event of A Disaster
Ample Space in Both Bags to Add Personalized Essential Items
The Bug Out Bag contents meet or exceed standards set forth by the American Red Cross.
---
Mayday Deluxe Backpack- 4 Person Premium
My Rating: ★★★★
The Mayday 4 Person BOB items are made by Mayday to insure high standard and quality preparation.
Highlights
Bag Contents Good for Multiple Types of Disaster Scenarios
Food Designed to Minimize Thirst During Eating
Free Shipping on Bug Out Bag
Mayday's 4 Day BOB kit provides a good number of the emergency items for the price.  _______________________________________________________________________________
Even though the reviewed bags are solid with many of the most essential survival gear you will need, you will have to add those extra items (ex. long term freeze dried food packets) that best fit your specific family's demands. For those considering this path, please go to a bug out bag checklist.
It gives you a list of survival items you need straight from the words of survival and emergency preparedness experts. Check it out below.
Family Bug Out Bag List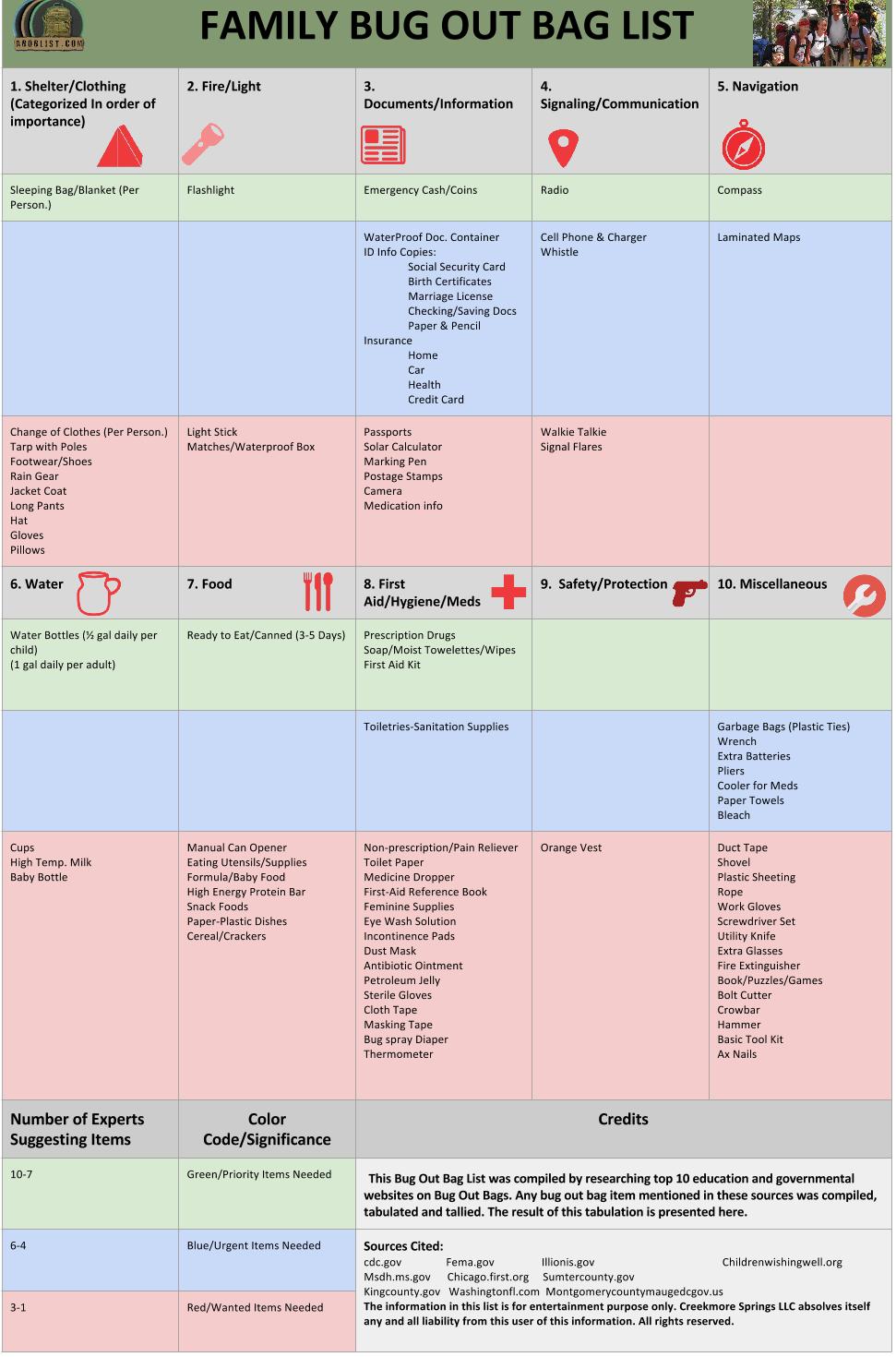 Combining this list above with the 72 hour BOB list PDF gives you a "super list" from which to pick and choose the right gear and supplies for you and your family members
It is without saying a good idea to also  prepare bug out bags for the each member of your family. The common mistake most people make is packing identical bags for everybody. This is the wrong way to go and which I will show you why. For those who think they need a more complete review on the most effective prepping techniques and strategies to learn and use for any disaster scenario, click this link.
Learn to Distribute the Supplies Among the BOBs
One of the parents can be responsible for carrying a complete bug out bag, which contains the fire-starting implements, the cooking utensils, the tent, and all the other essentials.
There is no point in having each bag contain these items. Moreover, small kids should not be anywhere near these dangerous tools and weapons.
Each individual bag must contain the clothes for the bag's owner, the whistles, food, water, a flashlight, and other personal items such as a toothbrush.
Do not expect your kids to carry a large sized BOB, especially if they are toddlers. Kids over the age of five can be tasked with carrying small BOBs, meaning that the contents of their bag must be limited to personal items.
If you have grown kids, like teenagers, you can ask them to carry bigger BOBs. You can also distribute some of the family's essential items among their bags. For instance, you can place additional blankets, tools, and baby supplies in their kits. To ensure that you know where to find these items when you need them, attach a list to each bag.
Infant's Bug Out Bag
You should prepare a separate BOB for your infant, to be carried by one of the parents. This bag should contain the baby's milk formula, diapers, milk bottles, clothes, water, wipes, and other supplies.
During times of emergencies, it is advised that you resort to breastfeeding, if possible, and use cloth diapers which can be washed and reused.
This will lessen the load of your infant's bail out bag and make you less dependent on disposable and consumable supplies.
Medicines for the Kid's BOB
If any of your kids have a medical condition and needs to be medicated regularly, make sure that that child's bag has an adequate supply of the necessary medicine.
There should be enough for at least three days dosage. You, as a parent, should keep a few extras in your own BOB because you never know how your kids will react to their medications.
Even if your kids are healthy, it will be smart to pack children's first-aid medicines in your go bags. The stress and the harsh conditions you will be dealing with may cause your child to develop a fever.
Therefore, it is crucial that you have fever reducing medication as well as pain relievers in your bag. This will help your kids feel better and be more comfortable until rescue arrives.
Family BOB Food Supplies
Adults can will themselves to eat less when they know that they have a limited supply of foods, but the same cannot be said for children.
Most likely, they will continue asking for the same amount of food that they enjoy at any regular day. The fact that you will not be able to cook their favorite dishes for them may create a problem to both parents.
To avoid such a situation, get your children's inputs when buying and packing their food supplies. To guarantee that they will like the food the find in their BOBs, take them shopping and have them pick out the biscuits and snacks they like. Aside from bringing water, also consider packing your kids' favorite beverages.
Comfort Items
These refer to your children's favorite stuffed toys or blankets. Sudden evacuations, riots, or violence in their environment can cause an anxiety attack in your kids that even parents will not be able to appease. Numerous studies done by child psychologists have shown that having the child's stuffed animal with them or wrapping the child in their favorite blanket can help lessen fears and calm the kids down.
Pet's BOB
Most families own a pet and a disaster is not reason enough to leave it behind. Of course, your family's survival comes first, but if you can also save your pet, then do so.
If your dog is trained, it will follow you as you evacuate. If not, you can use a leash to prod them to come with you. Cats can be placed in a small crate and your bird – in a small cage.
Pack a BOB for your pet, too. This will usually contain some dry foods, water purification tablets, ID tag with your contact information, blanket, and medicines if applicable.
I have both a bug out bag guide for dogs and one for cats that I discuss in detail information on the items you will want to have for these often overlooked members of our family.
Preparing a family bug out bag is more challenging and time consuming than packing a survival bag for one person, especially since you have to check each bag regularly. You need to assess if anything needs to be replenished and if it is still usable. The whole process is a lot of trouble, but it is worth is as it can increase your family's chance of survival if something bad does happen.