Wow, I still can remember my very first pocket survival kit.  I was so impressed with my masterpiece I was compelled to mass produce it in hopes of sharing it with the rest of the world.
But the lack of know how settled in and reality took over and we'll just say was put on the back burner back in 2008.
Believe it or not, this little treasure was a massive undertaking to say the least. There was lots of research and reviewing of various survival products involved.
It was my ultimate goal to select items I had read about in the documents that were truly the most usefulness items available at the time.
Now I begin to reexamine the choices that I made and the lessons I learned from this experience. There are things I would probably do differently mostly I would be a little more discriminating over the items selected why?
Quality, durability, utility matters so these would factor into my decisions.

Personal Survival Kit from the Experts
Before I begin discussing my Personal Survival Kit, let's see what the experts say.
First a survival kit is part of a larger prep called an Every Day Carry (EDC). These are key survival tools and whole complete compact kits that are found throughout your person (important to spread your preps all around).
This gear can be secured and stored in your every day clothing, pockets, purses, simple backpacks, jacket, key chain, wallets, belt and neck chain or lanyard.
They are compact, lightweight, discreet and preferably of high quality. All these EDC pieces and tools combined make for a complete and thorough first line of defense.
When you are unable to reach your Get Home Bag (GHB) stored at your office/school or your larger 72 Hour Bug Out Bag kept safely at home. Experts suggest you be consistent and keep your EDC items on you everyday.
Make it a routine to place your gear on yourself and to remove this gear the same way daily. This will keep you from forgetting any one piece as you leave your home.
The following is a list of highly recommended EDC gear as mentioned by 15 of the top experts on emergency preparedness.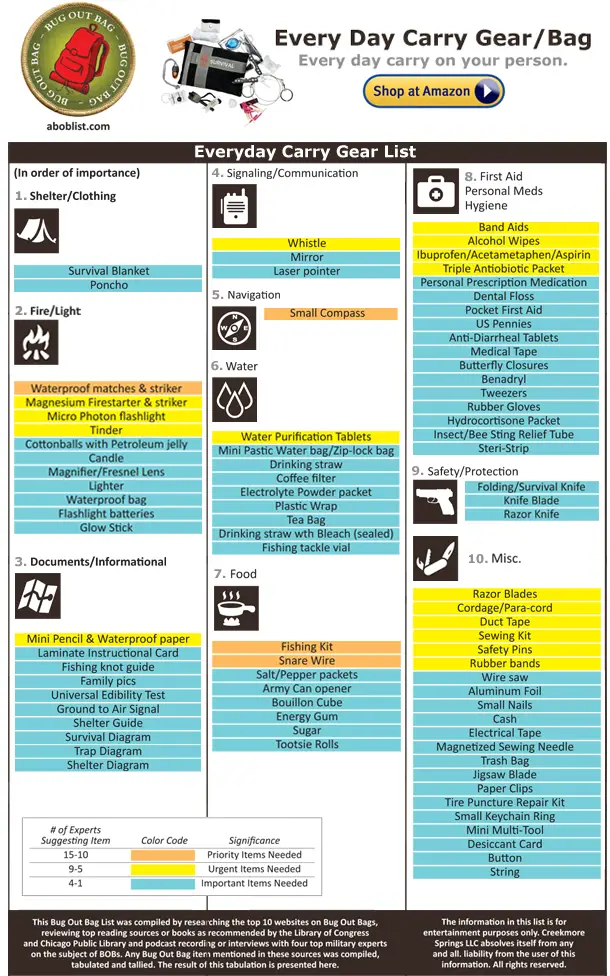 My Personal Survival Kit When I assembled my own pocket survival kit, I did not have the fortune of having such a list to guide me in selecting the items I eventually included in my kit.
I read, watched, and listened to various text, audio and videos to gather enough of a consensus on the right gear to buy.  I put together my kit back in 2008.
Looking back over my choices, it appears I did not do half that bad! With this in mind, my personal Survival Kit consisted of the following categorized items;
1. Fire & Light
▪ LED Mini Light
▪ Fireproof Matches with Tinder
▪ Flint & Ferrous Rod
2. Information & Document
▪ Laminated Emergency Survival Card
▪Waterproof Paper and Pencil
3.  Signal/Communication
▪Whistle

4. Navigation
▪ Mini Compass
5.  Water
▪ Water Purification Tablets
▪ Electrolyte Replacement Flavor Powder
6.  Food
▪ Energy Gum
▪ Salt & Pepper Packets
▪ Military Can Opener Device
▪ Mini Fishing Kit
7.  First Aid/Hygiene
▪ Pain Meds
▪ Anti-diarrheal  Tablets.
▪ Antibacterial/Hydrocortisone Cream Packets
▪ Wound Dressings (various)
▪ Antibacterial Adhesive Bandages
▪ Insect Sting Pain Reliever
8.  Safety & Protection
▪ Mini Survival Knife
9.  Miscellaneous
▪ Mini Sewing Kit
▪ Plastic Travel Soap Container
What Would I Do Differently? With the BOB List I created, I can now determine the home runs and shortcomings of my own Personal Pocket Sized Survival Kit. There were three deficiencies or corrections that quickly come to mind.
First, to a novice, the lack of space in the kit forces one to not include gear from the kit even if it is important to have.
So originally I did not include an item that would provide shelter or clothing. This is the very first emergency category on the list so it is the most essential.
Remember the Survival Rule of 3's, where the second line of the narrative states you can only survive 3 hours without shelter.
I could have included a survival blanket wrapped by paracord (which was also missing from my kit) in the kit.
It still wouldn't have fit snuggly in my pant or jacket pocket. Now that I know that a kit is part of an overall EDC ensemble, I would add a few more preps such as water and food items albeit miniature and with the longest possible shelf life.
I would add good tasting long shelf life energy bar
, a bottle of filtered water purchased at the local supermarket from a 24 pack case (lasts indefinitely) and a miniature energy drink
to my EDC wares.
Also to include on other parts of my body would be a lanyard or neck chain consisting of a usb drive
with stored important documents and my handy Can and Bottle Opener.
Since I live in a state where pepper spray
and stun guns
are unrestricted, I would purchase both of these because they are discreet and effective.
They would hang off both my key chain and Belt.
For those who live in restricted states, you might want to consider a small and compact weapon that can hang off your key chain which I currently own called a

Heart Attack

, it is a self defense instrument, or carry a tactical pen
or a  protective tool like the picture down below hanging off your neck chain, lanyard or key chain.
Something I could never understand is why anyone would want to have a survival fishing kit
either as part of your Personal Survival Kit or as a kit by itself.
First, who has time to fish during a disaster. Secondly, most people live in urban communities.
And not that you could not find water reservoirs around your area, but unless you are willing to practice using your fishing gear, and be able to gut a fish, I think it would be a waste of time and space.
This kit type would be more suited for a Get Home or 72 Hour BOB. It might also work if you are currently living in a rural or wilderness area.
Although, I might not replace the fishing articles from my kit, I would definitely include the extra food and water mentioned above.
Hopefully, there will never be a time when you will need to use your Personal Survival Kit. But in the event you do, you want to know that your kit along with your other EDC gear will help you  to persevere any calamity that might come your way.