You can always choose between making your own survival kit from scratch or conveniently buying a Premade Bug Out Bag.
These bags are sold online and in survival gear stores. They come in varying sizes and materials, and can be designed for women, men, or kids.
Pros and Cons of a Read-Made Bug Out Bag
The premade BOBs (bug out bags) usually have all of a person's basic needs covered. This means that you do not have to do much research on what essential items to put in a bag, as you will if you are making your own.
The creators and manufacturers of these premade survival kits are experts in this field.
They know exactly what basics every person will need to survive if a disaster should hit. Unlike real preppers who have spent a substantial amount of time preparing for these disasters, the ordinary people are often clueless on what goes in the bag.
Thus, there is a big danger that the bag they will put together will be a big failure, with numerous important items missing from it. This will reduce their chances for survival in case of emergencies.
Premade BOBs are also convenient because they eliminate the need to shop for multiple items. All you have to do is go online or visit a shop, choose a bag of the right size and with the right contents, and you are good to go.
In just a matter of minutes, you will be able to proudly say that you have an emergency bag that will ensure your well-being in the 3 days following a disaster.
For those who are limited on time, I researched, reviewed, selected the following Bug Out Bags that I think provide you with the basic emergency preparation and thus a foundation to build an outstanding and effective emergency kit.
5 Top Pre-made 3 Day Bug Out Bags
Life Gear Wings of Life Emergency Survival Kit & Backpack
My Rating: ★★★★
In the event of an emergency, the bag contain most of the essential items you or loved one will need.
Highlights
Water Resistant Backpack with Multiple Storage Pockets and Sleeves
Ergonomically Designed & Extremely Lightweight for Children and Adults
Great Value for a Nominal Cost
The Life Gear product line is strategically associated with the American Red Cross and Salvation Army.
---
Survival Backpack for Disaster Preparedness
My Rating: ★★★
The Survival Backpack is an extremely popular selection with over 10,000 sold.
Highlights
Ample Space to Add Your Personal Items and Additional Survival Gear
Great Value for the Price
Perfect for Those With Difficulties Carrying Heavy Loads
The Survival Backpack is a solid choice especially for those who plan to purchase extra emergency items .
---
Wise Foods 5 Day Survival Backpack
My Rating: ★★★★
This survival backpack is made by Wise Food, a highly trusted company in the preparedness community.
Highlights
Food Items has a Shelf Life Up to 25 years
Survival Items and Gear are Sealed for Utmost Waterproof Safety
Good Starter Bug Out Bag
Compact and lightweight size makes the Wise Bug Out Bag ideal for both young and old alike .
---
Ready America 72 Hr. Compact Bug Out Bag
My Rating: ★★★
This extremely small bag provides you with 3 of most important survival items as suggested by survival experts.
Highlights
Ideal for Storing in a Convenient Spot at Home, Office or Car.
Low Cost with Useful and Necessary Emergency Items Included
Enough Room to Add Additional Survival Gear
Many items in the Ready America bag selected as recommended by the American Red Cross.
---
Tactical Bug Out Bag
My Rating: ★★★★
Earthquakestore.com is committed in providing the finest supplies and technology in survival preparedness.
Highlights
Bug Out Bag Made of High Quality/Heavy Duty Military Grade Backpack
Survival Products Selection Effectively Cover All Areas of Emergency Preparedness
Survival Gear are Upscale in Comparison to Most Other Pre-Made Bags on the Market
Earthquakestore.com is recognized by Forbes as a leader in the preparedness industry.
________________________________________________________________________________
Premade Bug Out Bag Bag Concern
The only problem with ready-made bug out bags is their large price. Manufacturers usually choose only high quality bug out bag supplies, and these usually come with a large price tag.
Having several such items can make the overall price very expensive, especially if you opt for a BOB that contains a lot of miscellaneous items.
There is also a chance that the supplies in these kits may not meet your specific needs. After all, each person has his or her own idea of what is essential for them. Some females, for instance, follow their own  bug out bag guide for women.
Some prefer to have sunscreens and body lotions in their kits, while others are picky about the type of shampoo that they want to use. Premade BOBs are not customized, making it difficult for a person to find a bag that fits his exact needs. In the end, most people just buy a standard BOB and add their preferred items.
Considerations When Buying a Premade BOB
If you value convenience and do not want to bother with shopping and gathering multiple items, the ready-made BOB is the best solution for you.
Here are some tips that can help you pick the best bug out bag to suit your needs. And for those hungry for more in depth tips, go to my other article regarding further thoughts you might find interesting.
Size and Weight
The most common misconception people have when choosing their bag is believing that bigger is better. That is not so! You have to remember that emergencies require you to move fast.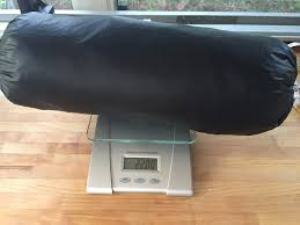 But how can you run quickly with your BOB if you can barely pick it up? You are bound to stumble and hurt yourself, further lowering your chance of survival, especially if you are escaping from a burning building or finding a safe place during an earthquake or flood.
A commonly held misconception regards the carry limits of backpack weight.  It was once thought that it was safe to carry a bag  no more than 30 percent of ones body weight. However,  medical experts now suggest carrying a backpack that is no more than 15% of a person's overall weight to prevent back injury.
Thus, the average American male weighing 195 lbs may carry safely a BOB of around 29 pounds. For the average American female weighing 166 lbs., 25 lbs. should be the maximum limit. It s important to keep the 15% rule in mind especially when outfitting your children who are more prone to serious health problems down the road.
Bug out bags come in large and extra-large sizes. Each is designed and recommended for specific body sizes, so pick one that is just right for you. If you are buying from an actual store, you have the great option of trying to carry the bag just to be sure.
Bag Design 
The best bags are those that have plenty of compartments for you to efficiently organize your things. Also, make sure to look for a well-padded hip strap.
This bag feature allows you to distribute the weight and prevent hurting your back. You should also look for a bag that is water-proof as that will keep your items safe even if you get caught under heavy rains or need a dip in high water.
Color 
The bag's color must also be considered. Although most BOBs use a camouflage design, this is not really advisable as it gives other people the idea that you are an expert prepper. This might tempt bad people to take your items from you. Instead, settle for dull colors, such as plain green, black, or brown. They will help you blend in with the rest of the crowd.
Supplies
As mentioned above, you can never really find a BOB that has all the stuff that you need, so pick one that has most of what is on your list of essential items based on your personal preference. You will be able to add the missing items to the bag later on. Therefore, find a BOB that has some extra space for you to add whatever you like.
Durability
Pick a BOB that can withstand the harshest environments and the roughest handling. You certainly do not want your bag's strap to break in the midst of running. Of course, a high quality bug out bag may be a bit more costly but at least you will be able to rely on it to function perfectly for many years to come.
When you're buying a premade bug out bag, follow these tips and ensure that you get a good value for every dollar you pay. I have written in further detail info on ready-made bug out bags.  For some,  a BOB may be an expensive investment, but it has the potential to save your life, and that alone is priceless.
---