The decision to "Bug In" or "Bug Out" has a tremendous impact upon your emergency preparedness plans.  Each one has it appropriate preparation mindset, protocols, supply and gear selection.
However, when you compare the two, many of the demands and needs you and your family would require during a crisis situation overlap.  Emphasis on the appropriate items one should pack and store in the event you need to evacuate effectively will be discussed.
You probably have seen or heard of media, movies or radio programs discussing the real world threats that exist today.
From natural disasters, possible economic collapse to socio-political instability, there are numerous examples and reasons to be concern about the possibility that any one of these events directly impacting you and your loved ones without warning or mercy.
The question then becomes whether you are willing to rely upon a fragile supply system and limited governmental infrastructure to protect and provide for you during your time of need.
One only needs to remember Katrina to realize how real this can be.  It is my impression however that you are probably not one to depend upon others but rather proactive in seeking realistic options in the event of a worst case scenario.
Planning for a possible evacuation situation should always be considered in your emergency preparations.  There is much to ponder if you are forced by circumstance to leave your immediate surroundings.
Various escape routes, possible Bug Out locations and Bug Out Vehicle(s) should be planned, discussed and implemented  with your family and or important friends.
My article, "Bug Out Vehicle (BOV): Thoughts on Vehicle Options" talks further regarding Bug Out preparations.
 Bug Out Bags (BOBs)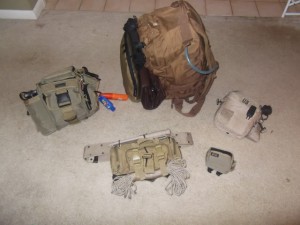 One of the best preparatory measures one can take in case an evacuation occurs is possessing emergency Bug Out Bags (BOBs).
In the prepper world, the Bug Out Bag has become extremely popular due to its effectiveness in providing useful gear and supplies needed during an emergency crisis.
Often missed by the prepper community is the need to have different types of Bug Out Bags or Kits to address different crisis situations.
The four BOBs are; the Everyday Carry (EDC) Kit/Bag, Get Home Bag (GHB), the more identifiable 72 Hour or 3 Day Bug Out Bag (BOB) and the Bug Out Vehicle (BOV) bag.
The EDC emergency items are carried on your body, in the clothes and hat or cap you wear on a daily basis to be used in case you are unable to immediately retrieve your other bags.
The Get Home bag is usually stored in a locker, office drawer or car with the expressed intention of helping you get from your immediate locale to your home or designated Bug Out Location (BOL) within a day or so.
Your 72 Hour BOB is safely stored at home to provide you with the necessary three day supplies to get you from your home to BOL safely.
And lastly, the BOV bag or kit is found in or on your vehicle to help you with the extra supplies and the essential vehicular tools in case of breakdown.
All three are essential to have, but most importantly serve the same function, to provide the necessary items and equipment. Your goal is to successfully overcome a natural or man-made catastrophe at a moment's notice.
The home page of aboblist.com gives more insights and details regarding Bug Out Bags.
 Regarding Prepper Supplies
When it comes to selecting prepper supplies, most survival and prepper experts emphasize the need for the gear in your bug out bags to be of the highest quality.
It must be compact/modular in size and shape, and have multiple use capabilities and whenever possible. Focus on having an added redundancy quality for more effectiveness and utility.
For instance, an alcohol wipe is often used in first aid, along with the antibiotic cream packet in your kit to clean a wound. But the wipe is also useful in fire starting.
I created what I like to call the Ultimate Bug Out Bag List.  I researched, complied and tabulated the data of over 45 sources from experts in the field of survivalism or prepping.
This lead me to develop a list of items and gear the experts suggest one should have.  Thus I will discuss the 10 categories in which emergency items, gear or supplies are placed and organized.
This section will cover items for Bug Out Bags.  For Bug Out Vehicle Bags/Kit I suggest going to my other article Bug Out Bag Vehicles (BOVs): The BOV List of Emergency Items.
The ten categories in order of importance are:
Shelter/Clothing
Fire and Light
Information/Documents
Signaling/Communication
Navigation
Water
Food
First Aid/Medicine/Hygiene
Safety & Protection
Miscellaneous
Although the order of these specific categories was mentioned in highly regarded source material, the rationale behind this order was never discussed. I surmise however, the order comes from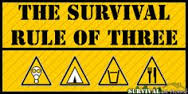 3 minutes without air – 3 hours without shelter
3 days without water – 3 weeks without food.
In my research, the gear and supplies that were mentioned in the documents were tallied and organized by the number of times any expert suggested an item.
At the top of each category, the most mentioned item was placed in the first position followed by the other products in order.  Below I highlight the top items as suggested by the experts as must haves.
                                                                                                                                                                EDC Bag/Kit                             Get Home Bag                      72 Hour BOB                    Altoid Tin, Unhinged Tin, Wallet          Fanny Pack, Utility Belt          Backpack, Rusk Sack            Key Chain, Neck Strap Hat               Shoulder Pack, Safari Vest       Framed Backpack             Tactical Belt, Plastic Pouch                Day Bag, Mini Backpack          Hydration Pack
Category                              EDC Items                           Get Home Bag           72 Hour Bag
Shelter/Clothing               Survival Blanket                          Tarp                      Work Gloves                                                       Poncho                            Emergency Bivy                  Socks                                                                                                             Gloves               Long Sleeve Shirt                                                                                                     Poncho              Waterproof Tarp                                                                                                                                           Blanket                                                                                                                                                 Pants                                                                                                                                                Bandana                                                                                                                                        Sleeping Bag                                                                                                                                        Underwear
Fire & Light                              Waterproof                       Lighter         Waterproof  Matches                                                      Matches & Striker              Headlamp                  Lighter                                                                                                            Firestarter     Flashlight w Batteries                                                                                   Flashlight w Batteries    LED Headlamp
Info/Docs                              Mini Pencil &                 Mini Pencil &                Mini Pencil &                                                  Waterproof Paper         Waterproof Paper          Waterproof Paper

Signal/Communicate                     Whistle                   Whistle                         Whistle
Navigation                               Small Compass              Compass                    Compass                                                                                                             Map                           Map
Water                               Purification Tablets      Filter Water Bottle      Portable Water Filter                                                                                      Purification Tabs          Purification Tabs
Food                                         Fishing Kit              Protein/Granola Bar               MRE                                                                                                                                        Protein/Granola Bar
First Aid                                      Pain Relievers         Sm. First Aid Kit             First Aid Kit
Personal Meds                          Alcohol Wipes           Toilet Paper          Tooth Brush/Paste
Hygiene                                     Antibiotic Packet                                            Toilet Paper                                                                                                                                             Soap
Safety &                                    Survival Knife       Folding Survival Knife    Survival Knife
Protection                                                                                                           Handgun
Misco.                                         Sewing Kit             Cordage/Paracord          Paracord                                                                    Paracord                     Duct Tape                   Muti-tool                                                                                                         Multi-tool                   Duct Tape                                                                                                                                          Cash/Coins
For those wanting a more complete list, please go to my home page. There you will find a master list (except BOV bags/kits) of the three bag types mentioned above.
I want to leave you with another thought. There is a much debate among preppers regarding the DIY approach or convenience of a ready-made Bug Out Bag(s).
I think there are advantages and disadvantages in both arguments.  However, I think it makes sense to purchase a complete bag/kit then add supplemental items to truly make it personal and familiar.
I am providing a few ready-made Bug Out Bags for those who want to have a good alternative or foundation then looking for every individual item yourself.
The BOB Buying Guide
Knowing BOB capacity best illustrates the amount of gear that can be stuffed in and around your BOB. Converting cubic inches into gallons or pints is used to help you visualize the total space available in your BOB.
Remember gallon or pint is not to be used to illustrate weight but to give you a mental picture on space capacity (ex. 2 gal. means 2 gallons of water will fit snuggly in the bag).
The price symbol "$" reflects the cost of that item when compared to the calculated average price of all the products on the chart.  The total "$" shown indicates how much more or less the cost was for that particular item when compared to average.
The BOB Score was devised by using various measurable factors and comparing them to the other items on the chart and in my research.
The score took into account; Bag Quality, Size, Price, Quality of Gear and Number of Emergency Categories that were fulfilled as mentioned by survival and prepper experts in the Bug Out Bag List from ABobList.com.
5 Top 72 Hour Ready Made Bug Out Bag (BOB)

5 Top Ready Made Get Home Bag (GHB)

5 Top Ready Made Every Day Carry (EDC) Kit