Everyone has things they hold near and dear to their hearts, especially their pets!
I'll be explaining on how to prepare to save your feline friend(s) when SHTF.
As you would expect to have something in-case a dire situation occurred for yourself, shouldn't there be something for your cat as well? Thus, I present this Bug Out Bag Guide for Cats.
Having a Bug Out Bag for your cat might sound straight forward. But it has its certain things you have to take into consideration. One such factor is weight.  Because it is unlikely your cat is big enough to carry his own bag, you will be inevitably carrying all the supplies for your pet, your 72 hour bug out bag, as well as possibly carrying them as well!
With this distinct possibility in mind, I randomly selected five 72 hour Bug Out Bags (BOB's) presented on Amazon to determine the average weight of the typical ready-made kind. My findings showed the average weight of these bug out bags to be approximately 13 pounds.
Further research revealed the average weight of a cat bug out bag to be 5.6 lbs. These findings combined with the average weight of a cat being 12 lbs, comes out to be a whopping 30.6 lbs!
According to medical professionals the most an adult can carry is 30% of their body weight (25% if there are any health issues), 20% if you're a woman and finally 15% if you're a child. With that in mind, the typical adult weighing about 160 lbs can only carry just about 48 maximum pounds, a woman of 120 lbs can carry 24 lbs, and a child of a 100 lbs should carry only 15 lbs.
Thus, if you are in typically good health and weight, you should be capable of carrying all your gear and cat to safety.  But if not, then what solutions are available to you?
Two options are; purchase a rolling cat carrier or carry your cat bug out bag but train your cat to walk on a leash. So there are solutions albeit maybe not the most perfect one but is very realistic and doable
Nevertheless, you will still need to pack a bug out bag for your beloved cat.
Whether you decide to purchase a complete ready to go 72 hour cat BOB, create one from scratch or do a hybrid version, I provide both a Cat Bug Out bag and a Bug Out Bag Checklist (found further down this article) for you to use in helping select your products wisely.
A Guide to Buying a Ready Made Cat Bug Out Bag  
In creating the TOP Cat ready-made BOB Guide, I utilized the information from the Cat Bug Out Bag list to review, calculate and rate the effectiveness and completeness of the ready made Cat Bug Out Bags.
Top Ready-Made Cat Bug Out Bags 
Ultimate Deluxe Survival Kit
My Rating: ★★★★
A great choice for one who desires the gold standard of all cat bug out bags .
Highlights
Cat Food Packets-Vacuum Sealed for a 5 Year Shelf Life
Ample Supply of Items to Reduce the Need for Constant Replacement
Durable Case to Withstand Survival Conditions
Food and water packets tested and approved by the US Coast Guard
---
Cat Evacuation Bug Out Bag
My Rating: ★★★
In the event of an emergency, the bag contain many of the essential items your cat will need.
Highlights
High Quality and Sturdy Bag Doubles as a Small Cat Carrier
Collapsible Water/Food Bowl Provided
Good Starter Kit
Though this Cat BOB is best for carrying emergency items, the bag is tested to hold cats up to 25 lbs.
---
Deluxe Cat Survival Kit
My Rating: ★★★
Prepared by Vet and Emergency experts with many of the essential survival products your cat will need.
Highlights
Quality and Sturdy Bag
Consumable Food and Water Packets Tested to Last 5 Years or More
Good Kit to Use for any Evacuation Scenario
Compact and lightweight size makes the extra load easy to add with your own 72 hour Bug Out Bag .
---
For those who have determined to either supplement a ready-made emergency cat bag or make a personalized DIY Cat BOB, the list below was developed using highly authoritative sources to create the "master" list below. This list will give you all of the most important emergency preparedness items your cat will need during any disaster you and he may face.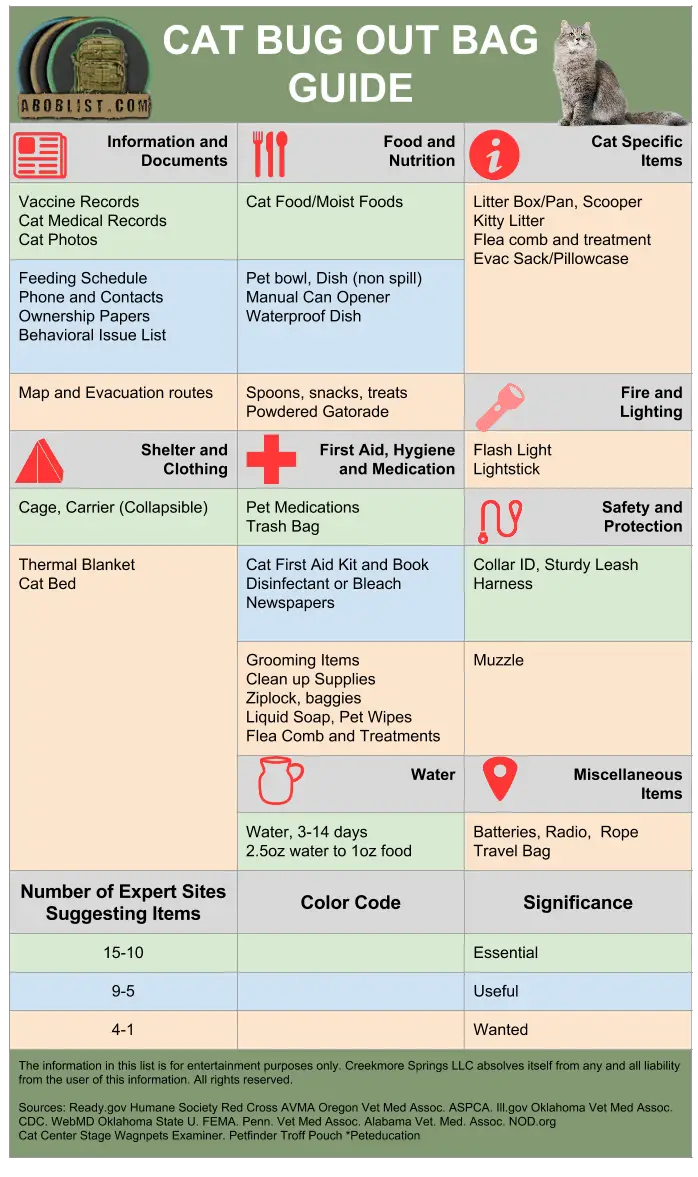 Because we live during a time of uncertainty, it is essential that you take the lead to protect all you hold dear.  For many of us, our cat becomes the family member that due to circumstances depends on us to keep them safe and secure. It is with this fact that inspires this writing with the hopes it can help you plan and prepare with success.