Creating the ultimate bug out bag is not as easy as some think. You need to know exactly how to pack a bug out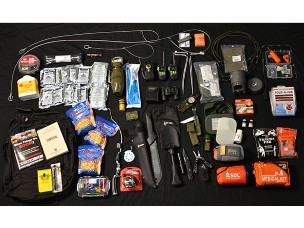 bag. There are a lot of things you will need to think about while choosing the items you need and packing them.
Some factors to keep in mind are mobility, access to emergency tools and supplies, convenience, frequency of use, and supply maintenance.
Simply stuffing all the necessary items in your bag does not make it a perfect BOB. It also needs to be properly packed.
After all, you probably do not want to rummage for hours looking for a handy item that is at the very bottom of the bag.
Using my highly researched and survival expert suggested bug out bag checklist, you can go to your local sport, hunting or army surplus store to choose a complete ready-made seventy two hour bug out bag.
Ultimate Bug Out Bags
For those with limited time, I present a few well selected 72 Hour Bug Out Bag options for your convenience below.
5 Ultimate Ready Made BOBS
Echo Sigma BOB: SOG Special Edition (Black)
UPDATE: DUE TO HIGH DEMAND, CURRENTLY OUT OF STOCK. PLEASE CHECK FOR                          RESTOCKING UPDATES
My Rating: ★★★★
This Special Edition Echo Sigma Bug Out Bag is a midsized emergency preparedness kit that is perfectly suited as a 72 hour or Get Home bag.
Highlights
Contains the Exclusive Line of SOG Specialty Knives and Tools Used by Special Forces
All Items Organized and Stored Ready for Fast Access during an Emergency
Everything is Packed Fresh When Ordered
A proud provider of emergency preparedness needs to The US Department of Homeland Security.
---
Alpha Extended Leave Bug Out Bag
My Rating: ★★★★
The Alpha Extended BOB represents the utmost quality and standard among the elite line in emergency kits  .
Highlights
Contains Over 300 Brand Name Survival Products
Top Quality Emergency Preparedness Gear
Backpack Made of High Quality Material with Ample Space Ready for You to Personalize
The Alpha Extended Bug Out Bag products were carefully selected for their effective use in any disaster scenario.
---
Wise Deluxe Survival Kit
My Rating: ★★★★
Wise Food not only provides long term storage food of the highest quality, but also an effective response to any disaster through its fine line of bug out bags .
Highlights
One of the Most Complete Line of Emergency Items and Gear in One Kit
Food and Water Packets of Highest Standards Tested to Last 25 Years
Rolling Duffel Perfect for Those Unable to Carry Loaded Bag
This deluxe version is suited to provide two weeks of provisions for one person .
---
Echo Sigma Bug Out Bag
UPDATE: DUE TO HIGH DEMAND, CURRENTLY OUT OF STOCK. PLEASE CHECK FOR                          RESTOCKING UPDATES
My Rating: ★★★           
This Echo Sigma bug out bag is their full-size version model providing quality emergency items and gear.
Highlights
Unique Vertical Storage Configuration Makes the Bag Easy to Store While Allowing Easy Access to All Items
Upgrades & Additions Include Backpack. Emergency SOG Tools and Life Straw Filtration System
3 Bag Colors to Select; Tan, Red and Black
Sigma Echo Emergency Systems  is designed by engineers and hand built using high quality materials.
---
Roll and Go Survival Kit on Wheels
My Rating: ★★★
Good solid bag with main emergency items included
Highlights
Overall Lightweight Makes Carrying Bag With Relative Ease
Enough Supplies to Provide for 1 to 2 people
Designed to Be Used During a Quick Grab and Go Crisis
This backpack on wheels makes it easy to take your survival gear anywhere.
---
Personalizing Your BOB
Before purchasing it, you will want to use my BOB list to determine if you are buying a bag with all the survival gear
per the list you will need.
Once you select one that fits your requirements and budget, you will want to "personalize" it with things you specifically need for you during the emergency at hand.
Getting to the all your emergency items  in a quick but efficient manner is key. Thus, the way your bag is packed can actually affect your chance of survival in times of disaster. Here are some helpful tips on how to properly pack a bug out bag.
Smart Organization
Start by classifying your supplies into three categories: urgent, non-urgent, and emergency. Emergency supplies are those that you need to have immediate access to at all times.
Examples of these are your whistle, radio, phone, weapon, knife, first-aid kit, flashlight, and protective gears.
Most of these can be placed in your pockets while you are already on the go, but they still have to be packed in the bug out bag first.
So, make sure to place them in your backpack's pockets so that you can quickly retrieve them as you run for safety.
Urgent items come next in the rank of importance. These should be placed in the top area of your survival go bag so that you can easily reach for them when you need them. These items include your food, water, fire-starting supplies, and a tent.
Non-urgent items should be packed first so that they are at the bottom of your bug out bag (BOB). These are things that you would not be needing in haste, such as your blanket, change of clothes, toiletries, cooking supplies, and other miscellaneous stuff.
As you pack these items in their proper place in your backpack, remember to place heavy items closest to your body thus making it easier for you to carry the bag. Your body will be able to effectively support the weight giving you the ability to run fast to get to safety, if there is a need for it.
Water-Proof Your Supplies
You will never know what kind of situation you will be in when tragedy strikes. Therefore, you have to make sure that your supplies are water-proof and can not be damaged by possible rains or floods.
One way to do this is to separately pack each item in a Ziploc bag and place all of them in a big plastic bag that will go in your BOB.
It is also a good idea to tape the lids of your water bottles and fuels shut to ensure that they do not spill inside your bag.
Have a Spare
Make sure that there is a spare for each of the crucially important items in your bag. That way, you will be able to use the second one if the first one malfunctions or gets lost. This involves important items that do not carry much bulk, such as your batteries, medicines, fire-starting tools, and others.
The "have a spare" rule also applies to the bug out bag itself. It is a good idea to have at least two bags prepared.
That way, even if one is out of reach during a disaster, you always have a backup hidden somewhere else.
For example, you can place your backup BOB in your car. These two bags do not necessarily have to be exactly the same, but make sure that they both contain the essentials.
Proper Location
BOBs are also known as grab and go bags because they have to be easy to pick should an emergency arise. Thus, do not place your BOB at the top of your closet, in the attic, or any other inaccessible area in your home. Place it near where you will have easy and quick access.
Although a bed or near the exit is idea, you might want to conceal or hid it in plain site (mix with other inconspicuous bags) to keep prying eyes from noticing them.
Pack Light and Save Space 
As mentioned, mobility is an important factor when packing your BOB, so make sure to pack as light as possible.
The purpose of an ultimate survival bag is to keep you comfortable and alive for the next 72 hours, not for an entire month.
You must also save space to keep your backpack as small as possible. You can fold your clothes and blankets as compactly as possible. Consider placing smaller items inside bigger ones.
Having a large bag does not only hinder your ability to move fast, but it also gives other people the idea that you have more than enough supplies. That can become an additional threat to you and your safety.
Remember these tips when you are packing your ultimate bug out bag to ensure that the bag effectively serves its purpose and you have quick access to emergency items when you need them.