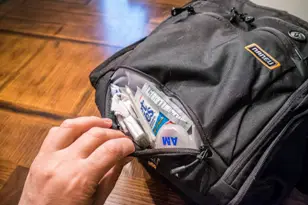 If you are making your own survival kit or shopping for an already-made one, this Bug Out Bag List PDF: Checklist of Things to Put in Your Kit  can help you determine whether you have picked the right bag (if you're buying it) or you have everything need (if you're putting one together by yourself).
Survival situations are not the ones where you want to discover that you left out something that can affect your chance of survival during the first 72 hours following the disaster or tragedy.
For those who think they need a guide that gives the best techniques and strategies to learn and use for any disaster, click this link.
[symple_box color="gray" fade_in="false" float="center" text_align="left" width=""]
DOWNLOAD THE COMPLETE BUG OUT BAG PDF GUIDE FOR FREE
Get Bonus Resources Including…
• Awesome PDF List Of Everyday Carry Kit, Get Home Bag and 72 Hour Bag All In One!
• Complete PDF List of Bug Out Vehicle Supplies and Gear
[ninja_forms_modal_form id=23 image_link='https://www.aboblist.com/wp-content/uploads/2015/03/download-bug-out-guide-guide-PDF.png']
[/symple_box]
Below, I proudly present to you my Bug Out Bag List. This authoritative list was created by compiling the information on the emergency preparedness gear and survival items mentioned in the documented sources I researched. The sources I used  came from educational. governmental and experts sources from internet, periodicals and books specifically on bug out bags and emergency preparedness.
To supplement our list, check out the bug out bag list at Ready To Go Survival. They've helped thousands of people prepare over the years and created a guide to share their experience.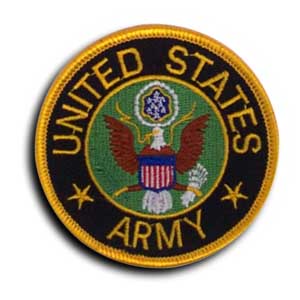 The categories are in order of importance as suggested by both a US Army manual and the Boy Scouts of America.
I color coded the list so you will know what is the items most mentioned as must have items to have in your BOB.
In most cases getting one or a few of the items from the top of each category will get you on your way to being well prepared.
This however is just a start. It is recommended to not just purchase the gear listed but to train to correctly use it.
When the time comes, you want to be sure that not only your purchased items work properly but you will use it successfully.
One last suggestion, having more than one item that produces the same function (ex. a lighter and waterproof matches to start a fire) and that have multiple uses (ex. knife to use for defense and cutting tool) will have more utility for you. This is something to consider in selecting the right gear.
Bug Out Bag List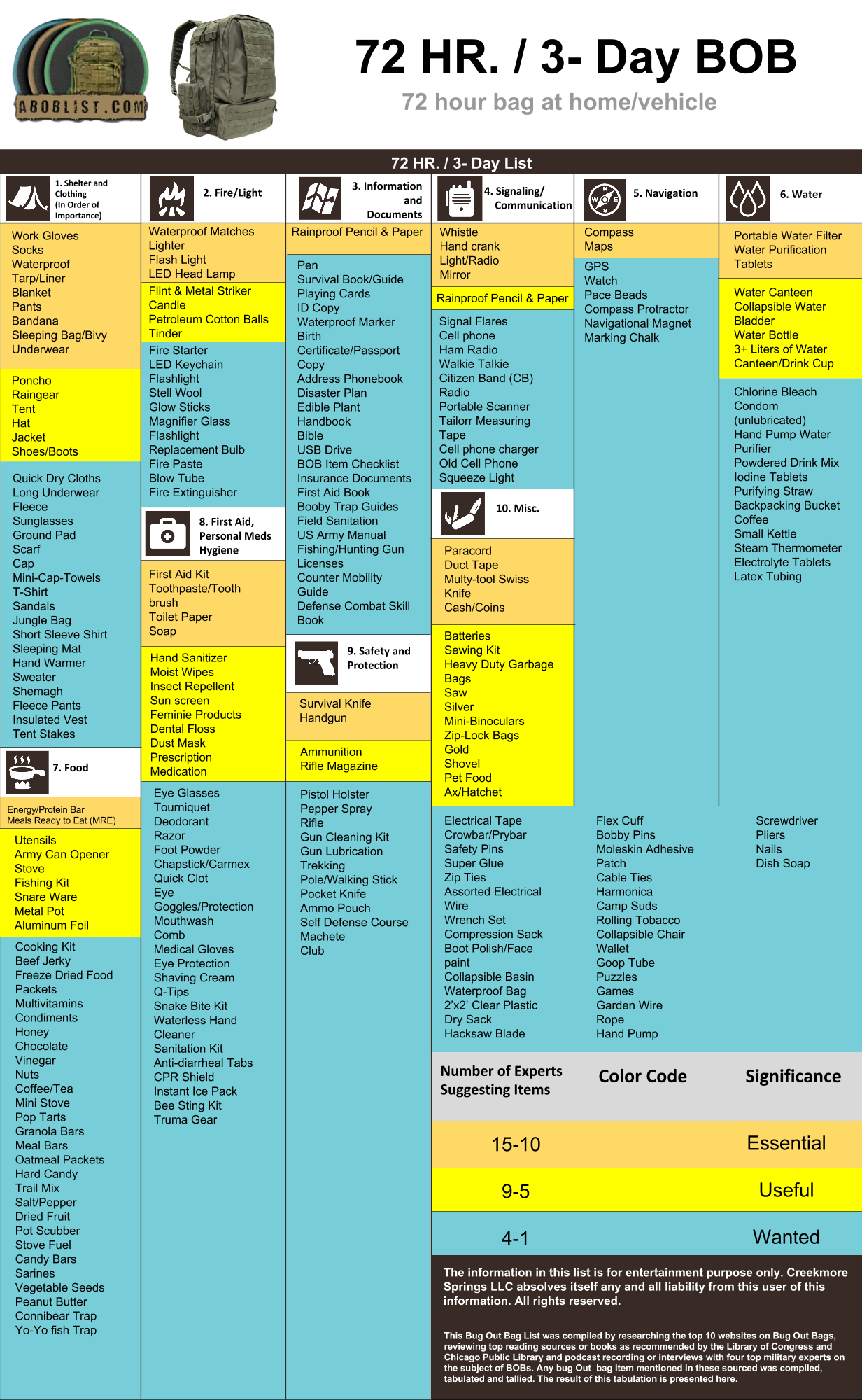 The details below are presented to have a further discussion to possibly give you some more insight on some of the categories I present in the list above. Hopefully you will find it helpful and informative.
Emergency Shelter Option
This could be a tent that can fit you and your family or at least a simple garbage bag that you can use as cover when you are far from your home. The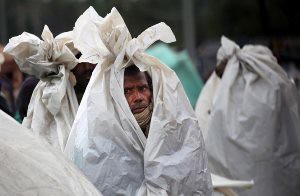 reason why some prefer a large garbage bag is because it occupies little space and is so lightweight.
Unfortunately, a such a bag, no matter how big or durable, cannot offer you sufficient protection from the weather as well as from insects.
The good news is that there are new tent designs available that are incredibly lightweight and compact. They are not bulky and will not take up much space in your bug out bag.
Having a tent alone is not enough to assure your comfort. So, make sure that the "shelter" category of your bug out bag checklist also includes a blanket and a sleeping bag.
Food, Water and Cooking Supplies for Your BOB
When it comes to food, pick the ready-to-eat foods, such as canned goods, granola bars, chocolates, instant oatmeal, crackers, and anything else that does not require much cooking. Some people do not make food their priority because they know that it is technically possible to survive without it for a few days as long as the body is hydrated.
However, it is always better to keep your energy high in times of disaster. After all, you will have to be on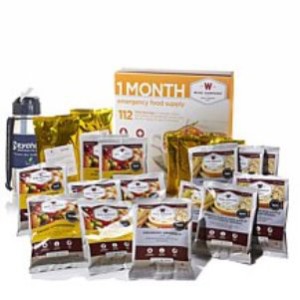 the move and will need to haul heavy things. Food will fuel your body and give you the energy you need.
Water is essential. Always include a few bottles of drinking water in your inventory of bug out bag essentials.
Since you also have to limit the weight of your survival bag, packing too much water is not a good idea. Two or three liters will usually be enough to survive for a few days.
It is also a great idea to pack a water filtration device, like a straw type filter, as it will make it possible for you to continue drinking safe water when your initial supply runs out.
Whether you pack some cooking supplies in your bag is completely up to you. Some people choose not to do it because of the bulkiness of the utensils and supplies.
However, there are also compact, lightweight, and handy cook sets that are easily available. These include a pan, stove, and fuel. You might need such a cooking set to boil water for drinking and to cook food, especially if help has still not come after 72 hours and you need to hunt for food.
I have further information in my Prepper Food article.  It gives you some suggested lightweight items you might want to consider.
Survival Weapons and Tools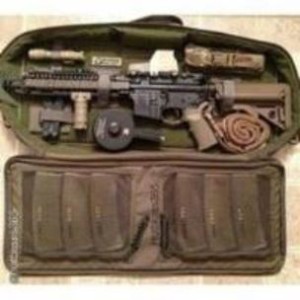 You might say that you are not packing a zombie bug out bag so there is no need to carry any weapons with you.
However, you never know if you are  going to need it until you are faced with a life-threatening situation.
You might have to fight off other people or wild animals. A gun may also become helpful in case of a need to hunt for food.
In the end, it is up to you to decide whether a weapon is something you want to bring.
As for the tools, instead of carrying several different items, consider a multi-tool that already has a knife, a can opener, saw, a screw driver, and many other useful tools. I have a few reviewed knives that are highly rated in both Youtube and Amazon. Check out  my article here.
Keep in mind that some multi-tools, have blunt blades for the knife, so you may want to carry a separate knife that is a bit bigger and can cut better.
Fire-Making Supplies for Your Bug Out Bag
Remember to place a lighter or a box of matches in your bug out bag. If you end up in the forest, they can be helpful in starting a fire that will keep you warm and help you prepare your food.
Clothes for Bugging Out
Clothes can be bulky so carry only the essentials. A pair of pants, a couple of shirts, some underwear and two pairs of socks are enough.
If you happen to live in a cold region, pack a jacket, gloves, hat, and even another pair of cotton pants to wear over your jeans.
Prepper Medicines and First Aid Kit
If you happen to be on maintenance medication, remember to pack enough for 3 or 4 days. As for the first-aid kit, make sure that you pick one that actually has all the essentials, such as pain medications, bandages, wound cleaner, gauze, tourniquet, and shears.

Other items that should be included in your survival kit include a flashlight with extra batteries, toiletries, communication devices, money, flares, a whistle, and many others.
If you are still at a loss on what to put in bug out bag, refer to this bug out bag list PDF for a complete inventory of the essentials.