When one thinks of a Bug Out Vehicle (BOV) it is probably with visions of Mad Max battling for survival in a modified armored assault transport barreling down the highway.
This scenario however is most likely farther from the truth.  It is in a natural disaster or possible man made crisis that a Bug Out Vehicle would definitely come in handy. In a previous article, I presented a real life crisis scenario that occurred to me back in 1992.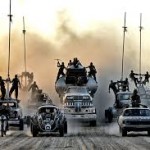 Although I decided to "Bug In," the rest of my extended family determined their best move for them was to "Bug Out."
This event illustrated the importance of having a reliable and dependable vehicle to get you far away from the crisis zone of your locale.
Also as important (or maybe even more) is the need to have a stash of sufficient BOV items and equipment that will make your particular circumstance bearable and survivable in your mission to get to your Bug Out Location (BOL).
Please click here for the Ultimate Bug Out Vehicle List My Take on Bug Out Vehicles Let's recognize that a BOV doesn't have to be a car!

Once you determine the vehicle(s) that fit your particular needs, you must then outfit your BOV with all or as much of the necessary provisions packed, stored and ready to be called into action.
As with a Bug Out Bag, the main goal and purpose of any BOV is to transport you and your loved ones from point A to point B safely and with little difficulty.
Ideally, before a major calamity comes your way, it is extremely important to map out various escape routes (just in case one road or outlet becomes blocked or impassible).
Reviewing these routes and take periodic trips on these paths will provide you enough familiarity with the terrain. It is strongly advised to consider possible detour options and any new changes in the environment.
This would allow you to make necessary modifications to your escape plan.
Some ideas to consider for your plan and is to create and review with your family or friends and creating a checklist as suggested by experts like Creek Stewart's of Willow Haven Outdoors and Jack Spirko of The Survival Podcast;
Deciding which Bug Out Locations are available and under what conditions should any one location be used.
Mapping out alternate escape routes and determining the circumstances to use any one of these  routes.
Determine which vehicle to use for which crisis scenario
Delegating responsibility to family members on securing and initiating or turning off all unneeded or unused items or utilities at your current residence and practicing implementing these measures
Deciding how to properly care for your pets if applicable.

Your maps and Bug Out plans should be reviewed periodically (ideally every 3 months) by all members of family way before the need to evacuate occurs.
You might consider leaving an extra sealed copy of your overall plan with a trusted family member or close friend in case the need to contact you is necessary.
The Bug Out Vehicle Options
There are various types of vehicles that can be called into service when necessary.  It is my contention that the more types of escape vehicles you have the better.
Obviously budget, personal health, experience and geographical location will dictate which options would realistically fit your particular circumstance.
Whenever possible, it would be prudent to carry along a combination or number of different forms of transportation upon your departure.
For instance, if you are using a Bug Out Car,  you might attach a bike rack with bikes for each member in your party to use in case your car breaks down.
This would therefore allow the use of another form of vehicle if the automobile becomes inoperable or the route impassable.
Because not all BOV are equal, I divided my list into 3 tiers based on the following criteria; space provided for passengers and supplies, ability to provide effective shelter, functionality options, and the ability of the vehicle to cover the greatest amount of distance on a daily basis.
Tier 1 (Motorized Covered Vehicle)
▪ Automobile (RV, Van, etc…)
▪ Sailing Vessel (Motorboat, Sailboat, etc…)
▪Aircraft (Plane, Helicopter, etc…)
Tier 2 (Motorized Vehicle)
▪ Motorcycle/Dirt Bike
▪ATV
▪Snowmobile
▪Motorized Bicycle
▪Scooter/Moped
Tier 3 Non Motorized Transport
▪ Pedal Cycles
▪ Cart/Wagon/Sled
▪Boats (Canoe, Row, Raft, etc…)
▪ Hot Air Balloon
▪Animal Driven
Whichever type(s) of Bug Out Vehicle you choose, the following are a few suggested guidelines I devised after listening to such experts as Jack Spirko of The Survival Podcast and Creek Stewart of  Willow Haven Outdoors that you might consider when making a selection;
Reliability (Is the vehicle in the best working condition to get me to my Bug Out Location (BOL)?)
Maximum Distance Coverage Potential (How much fuel or physical exertion is involved. How long will it take me to get to my location using this BOV ?)
Repairability (How difficult would it be to fix and find replacement or generic parts for my vehicle?) (Do I carry spares (parts, tires, etc…)?
Underside Clearance (Is the space below my BOV high enough to clear most obstructions or debris?) (Think of flooding and debris or obstacles on the road).
Additional Storage Capacity Options (Does the vehicle have areas to add carts, roof rack, hitch, etc… to increase storage capacity?) (Does your vehicle have the towing capacity to handle your payload?)
Stealth Factor (How well will my BOV blend into the environment or in a crowd of other vehicles?)
The Bug Out Vehicle (BOV): BOV Bag/Kit
You probably already have purchase or assembled Bug Out Bags (BOB's) such as Everyday Carry Gear (EDC), Get Home Bag and 72 hour Bug Out Bag (which I have discussed in articles throughout my website) for you and all your loved ones.
However to make your BOB preparedness complete one needs to consider a BOV Emergency Bag or Kit that would fulfill all of your "Bugging Out" demands.  So what is so special about a BOV Bag or Kit?
It should provide you with not only extra provisions to use just in case an unforeseen detour or event occurs that increases the time to reach your BOL but also the most crucial tools and equipment needed for your vehicle just in case.
Provided below are ready-made BOV kits/bags that would provide useful gear that can be used in a "Bug Out" situation.  I want to premise however that you will most likely need to include additional items to your bag.
I compiled a list in my article, "Bug Out Vehicle (BOV): The BOV List of Emergency Items," which comprises the suggestions of 15 top experts on the gear one might need in an evacuation situation.
Top Bug Out Vehicle (BOV) Bags/Kits 
Below I put together various BOV Bags/Kits for Road/Air/Land Vehicles.  Please note the BOB Factor provides an objective quality that makes the product unique or different from the other products shown in the chart.
The price symbol "$" reflects the cost of that item when compared to the calculated average price of all the products on the chart.  The total "$" shown indicates how much more or less the cost was for that particular item when compared to average.
[ws_table id="16″] My attempt was to provide a primer on locating and purchasing modes of transportation that fit your lifestyle and financial resources.
I want to highly recommend the book, [easyazon_link asin="1440333084″ locale="US" new_window="yes" nofollow="default" tag="aboblist-20″ cart="n"]
Build the Perfect Bug Out Vehicle: The Disaster Survival Vehicle Guide[/easyazon_link], by Creek Stewart and
The Nautical Prepper: How to Equip and Survive on Your Bug Out Boat by William E. Simpson II [easyazon_link asin="1612432204″ locale="US" new_window="yes" nofollow="default" tag="aboblist-20″ cart="n"] The Nautical Prepper: How to Equip and Survive on Your Bug Out Boat (Preppers)[/easyazon_link] for a more thorough and comprehensive review of various types of BOV's.