One of my very first actions in becoming a prepper survivalist began with my first creation, The Will to Survive Personal Pocket Survival Kit.
Believe it or not this do it yourself project stemmed from my "awakening" that took place some years back.
It was in a small way a positive and proactive measure in dealing with a world that I thought was quickly fading away.
In fact I was so motivated by this particular project, I started to put together additional kits in hopes of selling them on Ebay (yeah, right!).
I would humbly wish to present to you the events that lead me to make my personal Every Day Carry kit.  And then I wish to go over the rationalization for the items I purchased to place in this kit.
When I became aware that something was not quite right with the world, I cannot be certain.
It probably goes all the way back to my childhood with the mystery that shrouded the death of my mother.
Or maybe it was the difficulties of daily life I experience growing up in a precarious household. Life was always uncertain.
This premise was reinforced, without a doubt, on September 11, 2001. This event changed the world as I knew it forever.

In the subsequent years, more light was shed on my path.
It was also around this time that the illusions around me started to become apparent.
I was engulfed in both the AIG financial debacle and the housing bubble fiasco.
With AIG, I lost half my pension quickly and without warning. The story told by the mainstream media was my pension money had "disappeared" or got "wiped out."
This infuriated me but I chucked it up to "bad Luck."  It wasn't however until the housing crash that I truly "woke up."
This had an immediate and direct impact not only upon me but also upon my whole family.  Even though I was uncertain to the kinds of questions I would eventually seek to answer I went forward in my path to prepare for the unknown.
Fortunately, it was during this time that the internet began to come into its own.  This outlet allowed me to seek out and gather ideas, facts and opinions that would help solidify my thoughts.
Others too were trying to make sense of this new reality.
This is where I began to listen to alternative media figures like the late great Bob Chapman, Alex Jones and programs like The Armchair Survivalist and the now defunct A Marine Disquisition.
It was through these channels that I began my re-education.  Somewhere along this timeline I began to get interested in developing my own Bug Out Bags.
Because of the vast amount of information available and the nominal cost to assemble, I became focused on putting together my very own Every Day Carry; pocket mini survival kit.
Selecting and Assembling My Personal Every Day Carry (EDC) Pocket Survival Kit
First, it is important to know that I currently wrote a well researched and documented Bug Out Bag (BOB) list.
This very comprehensive list provides a prospective by 15 of the top experts in the area of survival preparedness on the types of items and gear you most want to have in an Every Day Carry, Get Home, and 72 hour Bug Out Bags.
Although I did not have this very helpful list to guide me at the time, I was still able to make a very useful EDC kit.
As I mentioned earlier, I had limited knowledge in regards to Bug Out Bags.
However, after doing a little bit of research, it became evident to me that there truly was a science in putting together an EDC kit. Guided by internet articles and Youtube instructional videos, I selected items and assembled a very useful EDC kit.
Whenever possible, I attempted to choose items that would be compact, of high quality, have multifunctional uses and possess redundancy qualities.
Below, I provide a picture of my very first  Bug Out Bag. I called it the Will 2 Survive Pocket Size Survival Kit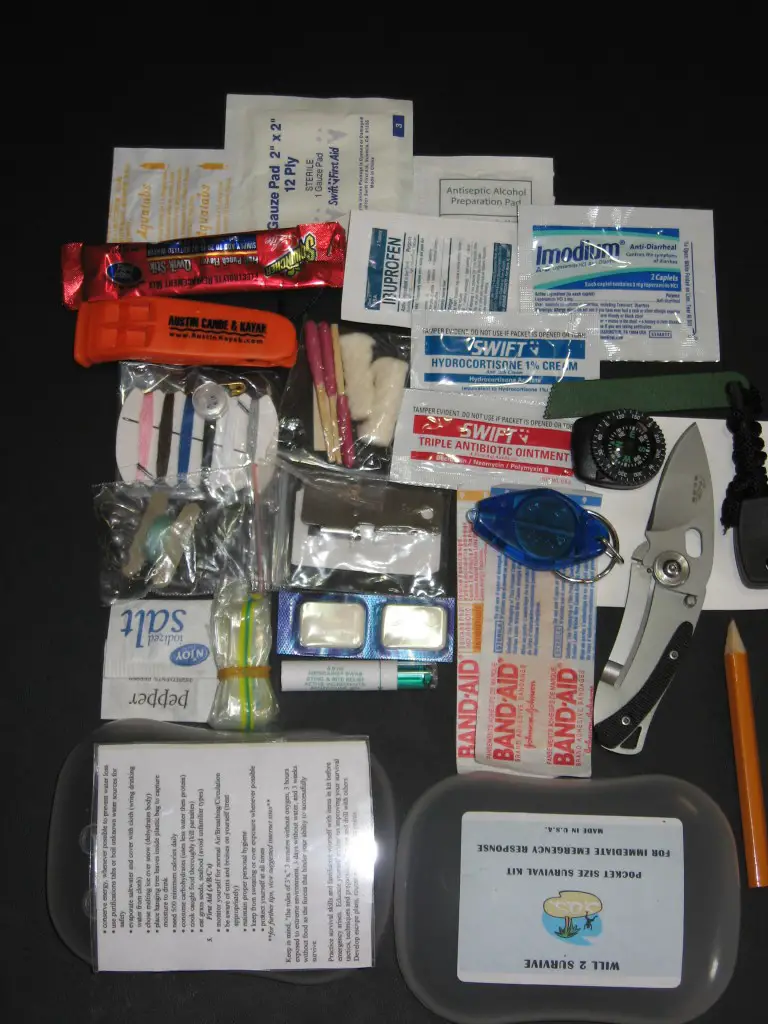 My personal survival kit consisted of the following categorized items;
1. Fire & Light
▪ LED Mini Light
▪ Fireproof Matches with Tinder
▪ Flint & Ferrous Rod
2.  Information & Documents
   ▪ Laminated Emergency Survival Card
▪ Waterproof Paper and Pencil
3.  Signal/Communication
   ▪ Whistle
4. Navigation
   ▪ Mini Compass
5.  Water
   ▪ Water Purification Tablets
▪ Electrolyte Replacement Flavor Powder
6.  Food
   ▪ Energy Gum
▪ Salt & Pepper Packets
▪ Military Can Opener Device
▪ Mini Fishing Kit
7.  First Aid/Hygiene
▪ Pain Meds
▪ Anti-diarrheal Tabs.
▪ Antibacterial/Hydrocortisone Cream Packets
▪ Wound Dressings (various)
▪ Antibacterial Adhesive Bandages
▪ Insect Sting Pain Reliever
8.  Safety & Protection
   ▪ Mini Survival Knife
9.  Miscellaneous
   ▪ Mini Sewing Kit
▪ Plastic Travel Soap Container
Issues and Resolutions to My DIY EDC Pocket Survival Kit
After I created a list of items above, I realized that there were a few prepper items I omitted.
The items I would include are; some kind of survival blanket or poncho and paracord.  The main reasons I left out these items were due size constraints.
In hindsight, all I had to do was to wrap around with paracord and the poncho or emergency blanket around the survival kit.
Also keep in mind that additional Every Day Carry items (ex. tactical pen, key ring self defense tool, etc…) can be stored or attached on any other part of your body.
I look at EDC gear in my article "Everyday Carry Gear (EDC): The Nitty Gritty on EDC Kits and Bags." For types of EDC gear.
The goals of making my kit compact, efficient and effective were for the most part achieved.
However keeping the size of my kit as compact as possible while having the most number of useful emergency items was always an ongoing dilemma.
I also searched for the ideal container which would be compact enough to store as much gear as possible while being waterproof.
I wanted the kit to fit in my pant pocket without fearing the items would be compromised if I fell into a large puddle of water.
But for the most part, I found containers lacking one of the two qualities I most desired.
There is a strong argument to support the idea of creating your own personal survival kit. It forces you to become familiar with each presumably high quality item in your kit.
However, through my own experience, the cost to do even the simplest kit can be pricey. This is because purchasing one of an item is usually more expensive than buying in bulk.
This only works if you plan to make numerous kits for your family and friends. If this is not your case, then in my opinion, it would be more cost effective to purchase a ready-made pocket survival kit and add on additional prepper gear to this kit.
Therefore, you save on money while personalizing your very own EDC.  Below I have included a chart of assorted EDC kits that as a foundation could be  used in creating your very own kit.
5 Top Every Day Carry (EDC) Kit

[table id=90 /]

Knowing BOB capacity best illustrates the amount of gear that can be stuffed in and around your BOB.
Converting cubic inches into gallons or pints is used to help you visualize the total space available in your BOB.
Remember gallon or pint is not to be used to illustrate weight but to give you a mental picture on space capacity (ex. 2 gal. means 2 gallons of water will fit snuggly in the bag).
The price symbol "$" reflects the cost of that item when compared to the calculated average price of all the products on the chart.
The total "$" shown indicates how much more or less the cost was for that particular item when compared to average.
The BOB Score was devised by using various measurable factors and comparing them to the other items on the chart and in my research.
The score took into account; Bag Quality, Size, Price, Quality of Gear and Number of Emergency Categories that were fulfilled as mentioned by survival and prepper experts in the Bug Out Bag List from ABobList.com.