There are a lot of different weapons out there that are great for self-defense, but few combine as much power, versatility, and function as the AR 15. The AR 15 is an assault rifle that's proven time and time again to be one of the toughest champs in the firearm game, but there's no doubt that this type of gun can also be quite heavy at times. In order to make your experience of transporting your AR 15 easier, we've picked out 5 of the best AR 15 slings around.
Slings for rifles are one of the most common accessories that exists today, and along with taking a bit of weight off of your arms, it also allows you to carry other things while your gun is resting on your shoulder or back.
However, not all slings are created equal. While there are some very good sling options out there, there are also some rather crappy ones.
In order to help you sift through the junk, here are our top top 5 choices for an AR 15 sling.
1. CVLIFE Adjustable Two Points Gun Sling with Elastic Bungee Cord
Our first pick for the best AR 15 sling setup is the CVLIFE Adjustable Two Points Gun Sling with Elastic Bungee Cord. This is by far the most affordable sling you'll find on this list, but despite the drastically lower price, you aren't getting a sling that's drastically lower in quality. In fact, this is one of the top AR 15 slings no matter what.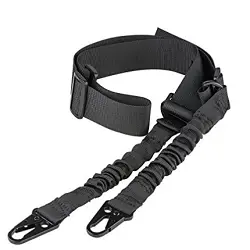 The CVLIFE sling in question comes in a single black color option, and it's made out of a super high quality nylon material that should prove to be able to withstand a number of different use cases and environments.
CVLIFE's sling can easily be used with any type of rifle that features a sling swivel or hook (which most AR 15s do), and thanks to the bungee cord design, you've got a lot of flexibility with how you want to wear the sling on your body.
A quick adjustment thumb makes changing the size of the sling extremely easy, and while you may need to do a little online searching for "How to attach a sling to an AR 15" since CVLIFE doesn't include any instructions, that's not nearly a big enough con to keep us from recommending this.
2. STI 2 Point Rifle Sling with FAST-LOOP Adjuster
The second sling on this list comes by way of STI, and while this sling does cost about double what CVLIFE is selling its for, it does a great job as justifying its higher price tag (as do all of the other slings on this list).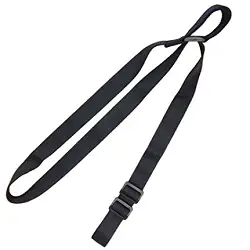 One of our favorite features here is STI's "on the fly" adjustment system that allows you to change up the length of the unit without having to actually disconnect it. This helps to reduce the number of tangles and fumbles that you usually come across with cheaper slings, and it's fantastic not to have to worry about them here.
You can adjust the STI sling up to 55-inches in length, and it's compatible with all 1.25-inch multi-use attachment hardware. The premium tangle and chafe resistant webbing is also a great addition, and along with these two big pros, it also feels incredibly durable.
STI advertises that the weaving being used here can hold up to 4000-pounds worth of weight, and if you're for some reason not completely satisfied with your purchase, STI backs up its product with a 100% satisfaction money-back guarantee.
3. Red Rock Outdoor Gear Duty Sling
Red Rock Outdoor Gear makes this next AR 15 sling, and for $5 less than the STI option, it's packing a very similar punch.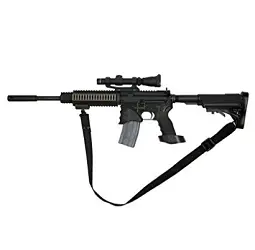 Something that we really appreciate with this sling is the fact that it's made right here in the United States. Slings (and other firearm accessories for that matter) that are made in the USA are typically of a much higher quality than products made overseas, and that fact holds as true as ever with Red Rock Outdoor Gear's offering.
This sling is fully weather resistant, and this means that you can take it out in essentially any condition outdoors without having to worry about it getting damaged due to the elements. The 1.25" polyethylene webbing is some of the most resistant currently available, and the semi-permanent installation means that the sling won't be going anywhere once you attach it to your trusty AR.
4. Tactical Hero 2 Point Rifle Sling
Nearing the end of this list, the next sling we'd like to talk about is the Tactical Hero 2 Point Rifle Sling. This costs the same as the STI sling we looked at earlier, and it's proven to be one of the most popular slings for a lot of buyers and readers at the moment.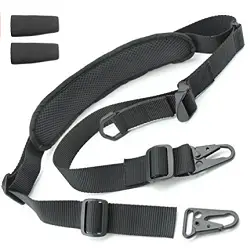 Tactical Hero allows you to adjust the length of its sling from 30 to 56-inches, and this results in it being one of the most adjustable and customizable slings that you can find for an AR-15 or any other assault rifle. The ability to fit any type of hardware is nice to have, and when it does come time to adjusting the length of the sling, it's made super easy thanks to the simple strap system.
Plus, if something goes wrong or you end up having trouble with the sling, Tactical Hero's family-owned operation promises a 100% satisfaction guarantee to ease any potential worries of yours.
5. S2Delta US Made 2 Point Rifle Sling
The very last sling we'd like to talk about comes by way of S2Delta, and it's a bit different in the sense that it offers the ability to wear your AR-15 over your chest. This provides for quick and easy access to the weapon if you need to make quick use of it to eliminate a possible threat, and we especially love this aspect of the product.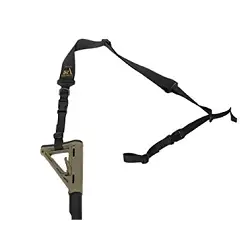 You can easily adjust the length and size of the sling with just one hand, and the modular connection system means that you can attach any of your other guns with ease. Also, thanks to the 2" thick shoulder strap, carrying your rifle for even prolonged periods of time should remain extremely comfortable and easy on your body.
Add all of this together with the fact that all of S2Delta's products are made solely in the United States – it becomes extremely easy to justify the somewhat costly price that the company is asking here.
Final Thoughts
If you really want to treat both yourself and your trusty AR 15 to something special, you simply cannot go wrong with any of the 5 products talked about here. These are the best AR 15 slings that money can currently buy, and while it may seem like an unnecessary purchase at the moment, a trusty and reliable sling will really come into handy should we ever need to put our survival skills to the test.