This Propur water filter review comes at a time when it is now essential for every household to have a water filter. When the Flint Michigan water crisis hit the news, most people were shocked. Brown water came out of the tap, the Governor of the state had intentionally redirected the source of the water that went into thousands of homes. This was a case of clear political corruption. But many figured Flint was an isolated incident.
Then the headlines hit the news cycle. Residents across the country took to the web about their own brown water. Maybe it is not a matter of a toxic river in some cases, maybe the water is flammable because of fracking. Those videos certainly made their way around the internet.
Perhaps you live in California, a clean and green state, ahead of the pack. But even California has dozens of cities with toxic water. Regardless where you live, it is in your best interest to check your water standards. If you find that your water is below where you would like it to be, or that there is even a chance it could get there, you will want to invest in a water filter.
Water filters come in a variety of sizes and systems, some fit in your refrigerator, others attach directly to your kitchen sink. Propur water filters are the hottest filters on the market, offering many options for your home and your on the go lifestyle. Below you will find a review for five different Propur products, based on their ease of use, their price, and their longevity.
Pro Pur Water Filter Review
1. Propur King Stainless Steel Water Purification + 2 of the New ProOne G 2.0 Filter Elements with Flouride Removal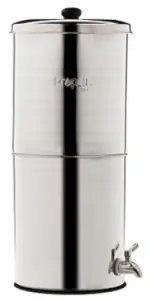 This is the big daddy of water filters. You can keep this on your kitchen counter, or an small table. It holds 4 gallons of water, so you could meet the water needs of 4 people in your household. It is stainless steel, it filters out the most toxic of impurities, and it removes fluoride from the water, if you're concerned about that. The nice thing about this filter, as compared to bottled water that you could have delivered to your house, is that you only invest once. You won't be paying a monthly fee. This system comes with 2 filters, which are good for 1200 gallons each. Install both, and you're good for 2400 gallons.

2. Propur Big with 2 ProOne G2.0 7" Filter Elements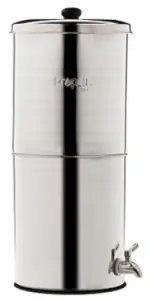 This one is slightly smaller than the King. It holds 2.75 gallons, so slightly less than the King, with all the same conveniences. This one would be ideal if you have a smaller family or less counter/table space. The Big is nice for travel. Since it is smaller, it is more portable, you could add water from a camping spigot or a local stream and the Big would filter out all the same chemicals and toxins that the King would filter out.

3. ProPur Water Filter Pitcher with 1 ProOne-G 2.0 mini filter element + Removable Fruit Infuser
[amazon_link asins='B00GJW7IV2′ template='photo-only' store='aboblist-20′ marketplace='US' link_id='3f92e57e-96e8-11e7-bcf3-d377aa5a9244′]
The water pitcher is perfect if you like to have cold water on hand. You can store this in your refrigerator and have cold, clean water whenever the mood strikes. Just don't forget to refill it! In addition, you get a removable fruit infuser, so if, like many people, you do not enjoy the flavor of water, you could add melon, cucumber, strawberries, or any other fruit to the infuser and add a naturally sweet taste to your water.

4. ProPur Countertop Water Filter ProPur ProMax Filter Technology
[amazon_link asins='B01LYBB9QB' template='photo-only' store='aboblist-20′ marketplace='US' link_id='587aa115-96e8-11e7-96b9-b9f07120178e']
The Countertop water filter is great for a homeowner who doesn't want to have to worry every time you turn your tap on. This model fits right to your kitchen sink faucet and guarantees chemical free water with every turn of the handle. The filter already installed has a lifetime expectancy of one year, and you can replace it easily after that. This product fits the needs of the long term planner.

5. 
ProPur ProMax Shower Filter With Shower Head
[amazon_link asins='B01E4D2JL6′ template='photo-only' store='aboblist-20′ marketplace='US' link_id='eae83f8f-9ad5-11e7-b7a7-33f5c364c4fe']
This shower head meets the needs of someone who wants to cover all his bases. Not only do you take care of your drinking and dishwashing needs, but you ensure that you are cleaning your body with chemical free water as well. The beauty of this shower head is that it comes in chrome, so it will likely match the existing fixtures in your bathroom, so you can relax in the shower in more than one way. Release the tension in your head and shoulders and know that you are cleaning your body, and the bodies of your family members, with pure water.

Final thoughts
Because people's kitchen sinks are now catching fire, because corrupt politicians are rerouting water sources, because the general public is just too busy to investigate every possible abuse of its trust, it is necessary to protect ourselves. While it may seem silly to think that a pitcher in your fridge is going to protect you, it is one small step toward taking ownership of your health and well being in an age when the powers that be are increasingly careless with our lives.